Ever feel intimidated by other writers, artists, musicians, or dancers to a degree of despair or paralysis? Me too.

I ventured into travel journaling on my trip to Scotland a few weeks ago. I did this despite fears of messing up the pages of my newly acquired Field Artist 6.5 in. x 6.5 in. Square Watercolor Journal, Hardbound with 80 pgs. 200 GSM, Cold Press Paper.
Those fears came partially from looking at other people's travel journals and KNOWING mine wasn't going to look like theirs.   
Well duh. 
Most of those people have been sketching on trips for years. 

Why would I want my art to look like everyone else's?

I teach about how to avoid the toxicity of comparison, but I'm only immune when I realize it's insidious nature has snuck past the guards standing at the entry way to my mind. I caught it JUST IN TIME not to be thwarted. I have tools. Comparison has been neutralized. Stay calm.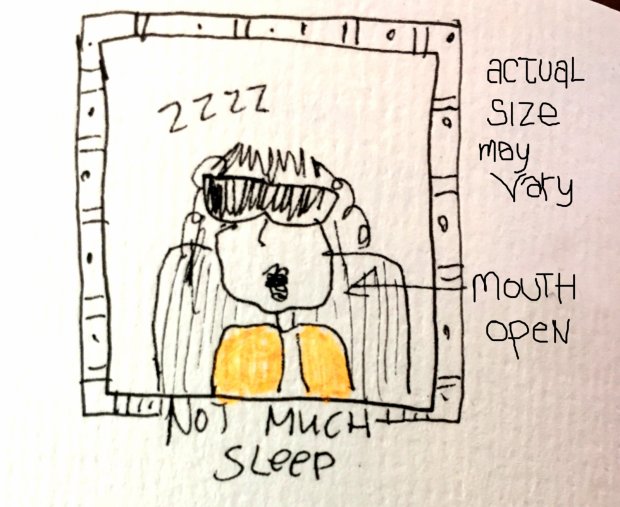 AND I DID mess up a few pages. Turns out I was okay with that. Tolerance to imminent blunders was the ticket to moving pass avoiding the whole experience of venturing into the scary waters of trying to render buildings, events, people [yikes!] and me sleeping on the plane right there in the exalted moment, bringing that moment more alive than is possible when snapping a photo - and practicing (because I'm not perfect at it) loving myself despite not flowing in my usual area of adequacy.
That's another reason people avoid these life-deepening episodes that could turn them on to an endeavor that makes their life more juicy: They fear inadequacy, but common sense tells us we must go through inadequacy before we find sporadic quality. Only a handful of people have a hall pass for instant talent and those people STILL need to practice.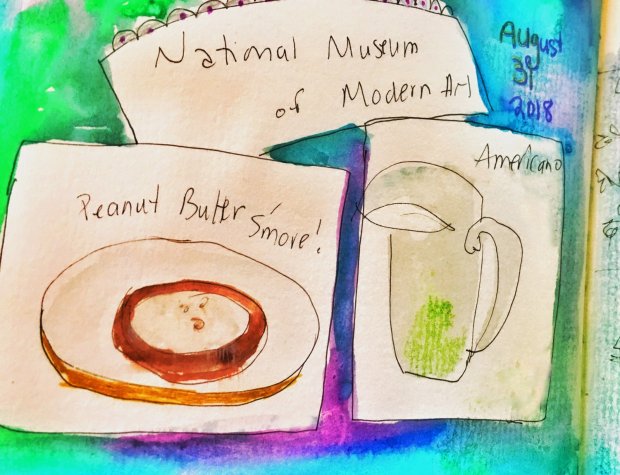 One of the most popular fears in the creative process is: "I won't be good enough." 
So, here's a thought. Don't be good enough. Use that illustrious imagination you have and give yourself permission to make your first journal part of an installation in a modern art museum.  Call it Floundering Sketcher With Her "Interesting*" Travel Journal

That's what I did and it worked. I even had myself a peanut butter s'more during one of my sessions. Let's put all our first sketchbooks in that exhibit and celebrate that WE DID SKETCHED DESPITE OUR FEARS. (And drew a blind contour Americano which made it fun.) 
If you have permission to show-up no matter what... you WILL get better. It's a mathematical reality.


*my mom used to called my art "interesting" as a way of being nice because she didn't get it. Not everyone is our audience and that's okay too.
Here's one of my favorite replies to fear's claim,
"You're not going to be good enough:
"So?"

[In my best snotty adolescent voice, fear hates that]

Vincent van Gogh knew:

"If you hear a voice within you say 'you cannot paint,'
then by all means paint, and that voice will be silenced."
I actually liked my sketches more than I thought I would, placing me in that, "I'm-glad-I-did this-cuz-I-almost-chickened-out-and-now-I have-cool-mementos-of-my-trip-that-I-would'nt-have-had-and-I-want-to-do-this-again mode:


Many of them didn't suck.

But I love the ones that suck anyway....because it's good practice for the inevitable ones that will suck in the future and the writing that won't be that good and the ukelele playing - well, that's never very good... among the sporadic masterpieces.
 .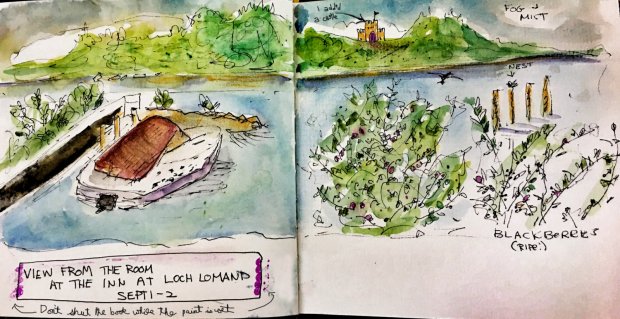 Sketch Guru and prolific author, Danny Gregory describes how wonderful it is to sketch when you travel:
"When you sit and draw something, all of your senses are on. Study Notre Dame for half an hour and you will never forget it,.  Draw the plaza outside St Paul and it will be seared into your brain cells. Not just the sights but the smells, the sounds, the temperature, all of it.  While I draw, I am experienced life in super high definition."

I will be speaking about:
These and other tools,

Experiences in exalted creativity 

More sketches, blunders, tangents, Bermuda Triangles, castles, and epiphanies at Sketchkon in Pasadena in November.

Join Danny Gregory, Austin Kleon, Jane LaFazio and a whole slue of other amazing artists and inspirational souls.
 What about you? How do you show up when you're intimidated?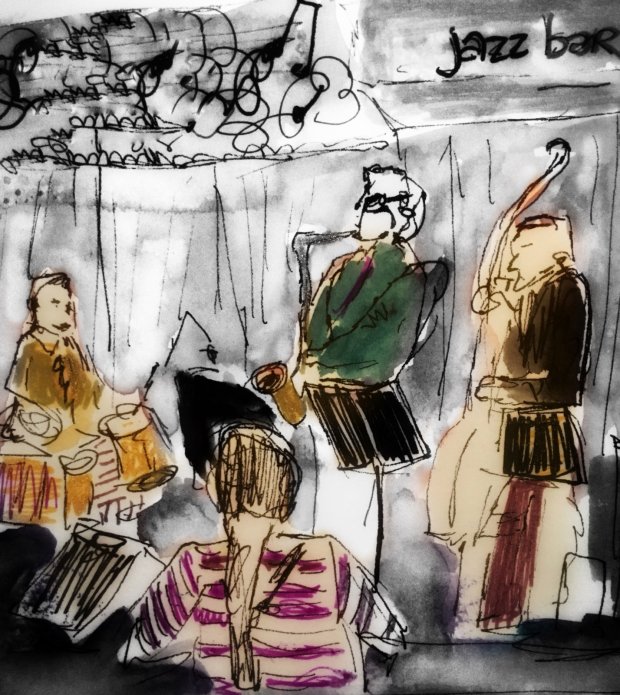 Edinburgh, Jazz Bar August 30