"The real world is much smaller
than the imaginary"
~F. Nietzsche 
I wrote imaginary stories during the pandemic to make the confinement of the real world a little larger. With the collective exhaustion from the aftermath of Covid,  divisive politics, and climate change - the imagination is still a way to find restoration, refreshment ... and to enjoy the music that is the rain.
I'd like to share the healing, wonder, and relaxation of these stories with you.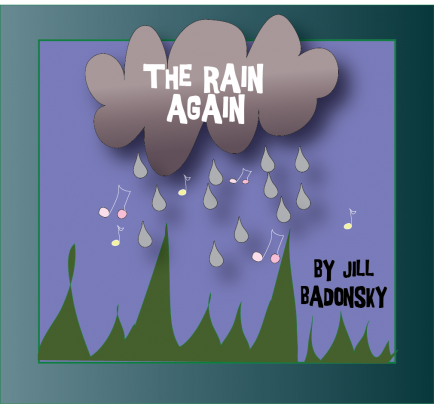 The Rain (from A Muse's Daydream podcast)
It's been a tough day… year, it's been a tough year. It's sad and scary and frustrating.
So I'm headed up to my writing loft. It's upstairs.
And when I get there, I instantly feel more present to this moment where things are safe and comfortable.
There's a floor to ceiling window looking out into an enchanting little forest of trees, all green and reliable. Inside is the smell of cinnamon clove tea and cedar from the wood, a welcoming red cozy rug, my ballerina mobile is dancing slightly, breeze in the high roof, and my big teddy bear recliner chair, where I write poems and prose and podcasts can almost be heard saying – get over here, sit down, and surrender, so I do. The chair is deep and easy, plush and padded, I sink in and feel taken care of.
Breathing in and breathing out, I go deeper.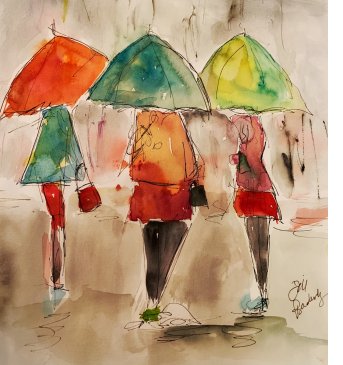 I hear rain against the window.I love the sound of the rain, its percussion, its erratic insistence, and then I listen closely and I do hear the music of rain…the rain becomes music. I close my eyes and imagine rain falling down on me like musical notes falling from stars.  Everywhere the musical notes rain around me, on me, and near me there is a sense of relaxation, I relax in this shelter of imagination, in this daydream. I breathe again.

 We run between lightning and shudder from thunder while in this world. But the rain doesn't care, the music still plays just as it did when the sun was out, and stars still send light. The world gives us so much beauty in so many forms that all we can hope to do is welcome it into our daydreams and make it medicine for the days, or the years, that don't feel so good.
We can replenish our clarity so we can see the moments that lead us to creative celebration and believe in the power of daydreams to do just that.
The Muse is IN Creativity Prompts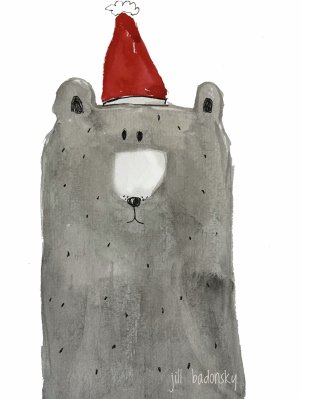 Writing Prompt: 
Write a rain or snow haiku or three line story. Then write another one, going outside your usual first response to something more novel or edit the first one until it makes you smile.

Art Prompt:  

There may be one person you haven't thought of to send a holiday card to who would love to get one from you. Make a simple one like the bear on the left and surprise them. 
Upcoming Creative Things:
       Tuesdays, January 3- 31, 2023 Wild Abandon
Ror Sketchbook Skool's Spark Program:  Letting loose with sketching and watercolor painting  especially for the intimidated beginner but for all levels wanting to have fun and find an artistic voice.
More information
January 23 -

May 15, 2023
Kaizen-Muse Creativity Coaching Certification Training 
A new 17-week training begins January 23, 2023 on Zoom. Something for yourself as well as others. Get trained as a creative catalyst but it's also a sure-fire way to take your own creativity to a new level, especially if you're feeling resistant, overwhelmed, or unsure.  19 years of training.
Check it out here or email me for a chat.
Two unsolicited testimonials from the last training:
"You and your program have changed my life in many wonderful ways. I'm very grateful." ~S
"It's been such an amazing learning experience …I .have drawn so much from the experience. It's been deep learning and enriching. With a heart full of gratitude. " ~JW

February 21 - May 9, 2023
The Nine-Modern Day Muses Facilitator Training: Meet 10 powerful creative principles in the guise of modern day Muses - they will take your creativity deeper and teach you how to run groups to do the same for others. Based on the book, The Nine Modern Day Muses (and a Bodyguard). More information and registration here.
October 1-6, 2023 Wild Abandon at Omega Institute in NY
Save the date for Omega Institute of Holistic Sciences in the forest at Rhinebeck, NY. I'll be teaching Wild Abandon Creativity. Watch for it in their catalog.