As some of you know, I have ADHD. I am clumsy, moody, easily overwhelmed, resistant to instruction, and short on frustration tolerance.
I have a few strengths as well.
But I have no interest in doing the work to make ocean waves that are so precise they practically splash out of the painting like my perfectionistic mother did, mainly because I lack the discipline, patience, and coordination. Yet, at the same time, I inherited my mom's perfectionism which makes drawing with precision a lot like a driving a car with no steering wheel.
I believed with all my drips, drops, and stains that I wasn't good enough but I was still in love with art, not just because I could bring funny doodles into existence for the amusement of my friends, but because it was also a place to stave off anxiety, neglect, and depression.
The escape into a world of blues and lavenders melding together, the discovery that I could make flower pots fly, and the improvisation and intuition that freed creatures and inventions that would not exist without my imprecise approach became as important as finishing something, teaching me early that process is where I want to hang out: The Wild Abandon process. 
If you have ADHD and the H stands for "highly sensitive," stay tuned. I'm putting together mindful creative programs just for us. Mindfulness meditation can actually rob our creativity if we are not aware of the advantages of having a distractible mind. If you want, let me know who you are. 
In the meantime, I have a Wild Abandon workshop next Wednesday at 3 pm pacific/ 6 eastern on Zoom. Free for Underground Members, $25 for civilians, and $15 for KMC3 members. 
More here
Best, Jill Badonsky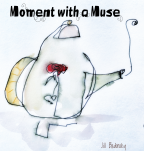 Come to parallel universe time on Mondays at 8:30 am pacific. It's free. A place to get things done while people hold the space for you, and you for them, to do that. Let me know if you'd like to be put on the reminder list. The link:  
Badonsky's Creative Prompts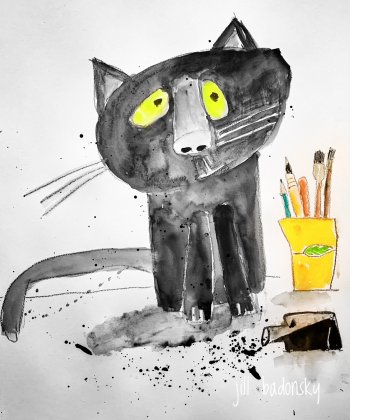 Writing Prompt:  Look up. What do you see. Fill in this sentence several times then see where your intuition leads you from there: I notice...  Art Prompt: Put some music on, close your eyes, and let the music guide your hand for 30 seconds. Open your eyes and let your intuition guide you the rest of the song.    

 

       
Some Creative Things You Can Do

     Wild Abandon WorkshopA Wild Abandon workshop next Wednesday at 3 pm pacific/ 6 eastern on Zoom. Free for Underground Members, $25 for civilians, and $15 for KMC3 members. More here  Finding Uber BlissApril 4–May 2 (5 weeks)  A Creative Journey to the Present Moment on Zoom through the Athenaeum (Just a few spaces left): More information Art for All PodcastI'll be Danny Gregory's co-pilot on his podcast Art for All, starting mid March 15 - we will be live on Youtube at 10am pacific time. It's going to be a lot of fun with door prizes and creative solutions. More on that soon.  Look for Danny Gregory on Youtube.   Wild Abandon at Omega Institute of Holistic SciencesMark your calendars for the first week in October 2023  Creativity on the Italian RivieraAlso mark your calendars for October 2024: I'll be the creative part of a tour to the Italian Rivieria. Stay tuned for details.

  

 

Author/illustrator of three books on creativity
Corporate Dropout 
Certified Yoga/Mindfulness Instructor teaching in corporate, prison, and retreat environments 
Multi-media artist, performance poet, and playwright
Award winning inspirational goof-ball and author.
Dispenser of thousands of weird creativity prompts including on Facebook
Highly sensitive person surviving in a kind of insensitive world.