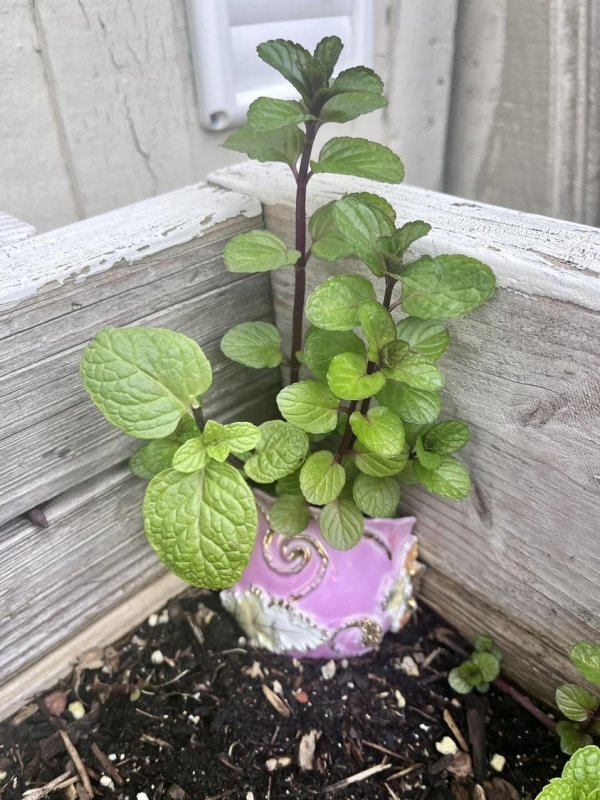 Happy St. Patrick's Day!
I dropped and broke the ornate coffee cup in the photo above. My mother gave me it a long time ago and I treasured it. I stuck it in my planter box as decoration and amom-memorial and mint made its way to the cup and ... voila. So now I consider it in "mint" condition.
It's not a shamrock, but I think it's a bit of good luck.  Wishing you poetry in the clumsiness that comes with being human, and humanness in the poetry of life.   Watch for good luck, it's everywhere.
Art Guru, Danny Gregory and I kicked off a new season of his podcast, 
Art for All
. We will be live on Youtube Wednesdays at 10 am pacific/ 1pm eastern and people who are there live get to make comments we can see and respond to. If you miss it, it's 
available wherever you get your podcasts.

Here's our first go
.. we've streamlined the format a bit for future episodes - but it will be a rich discussion that will help us all get through our creative blocks.  

 I have another Wild Abandon workshop  Wednesday, April 19 at 3 pm pacific/ 6 eastern on Zoom. Free for 
Underground
 Members, $25 for civilians, and $15 for KMC3 members.  Venmo is also available. 
Sign-up here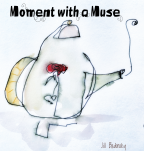 Come to parallel universe time on Mondays at 8:30 am pacific. It's free. A place to get things done while people hold the space for you, and you for them, to do that. Let me know if you'd like to be put on the reminder list. The link - click when ready to attend:  
May you understand the
creative power you have in
the way you look at the world,
Jill
Badonsky's Creative Prompts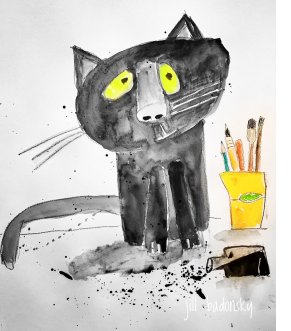 Writing Prompt:
 Complete one of these sentences and then keep going. Completing more than one is good luck: 

Once the moon visited for dinner ...
When I laid in a field of dandelions ...
Art Prompt:
Close your eyes and draw a rainbow with a pot of gold at the end of it. Paint it and then put it in an envelope with Art that Needs on Home on the outside and abandon in a public place.
Some Creative Things You Can Do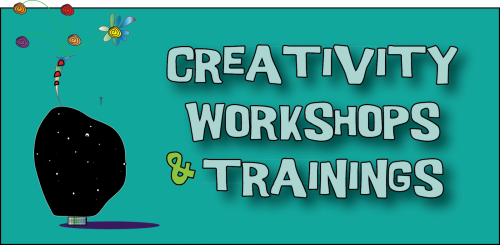 Wild Abandon Workshop
Next Wild Abandon workshop Wednesday, April 22 at 3 pm pacific/ 6 eastern on Zoom. Free for Underground Members, $25 for civilians, and $15 for KMC3 members. More here 
 
Finding Uber Bliss
April 4–May 2 (5 weeks) 
A Creative Journey to the Present Moment on Zoom through the Athenaeum (Just a few spaces left): More information
 
Wild Abandon at Omega Institute of Holistic Sciences
Mark your calendars for the first week in October 1-6, 2023. Details soon.
 
Creativity on the Italian Riviera
Also mark your calendars - I have the dates! October 14-20, 2024
I'll be the creative part of a tour to the Italian Riviera. Sign-up link will be ready the next newsletter or on my Website.  For all levels from beginners to travel-hungry pros.


Author/illustrator of three books on creativity
Corporate Dropout 
Certified Yoga/Mindfulness Instructor teaching in corporate, prison, and retreat environments 
Multi-media artist, performance poet, and playwright
Award winning inspirational goof-ball and author.
Dispenser of thousands of weird creativity prompts including on Facebook
Highly sensitive person surviving in a kind of insensitive world.

Your donations are not required, but deeply appreciated. Thank you to those who have Bought me a coffee