I once lived with an incompatible boyfriend on a steep, boulder-strewn hill in the high desert outside of San Diego.  One December day, after returning home from buying groceries and Martha Stewart Christmas ornaments that sported a delightful motif of pink and green, I opened the trunk of my car and hurried the groceries into the house. Eager to retrieve and hang the ornaments, I came back out to the driveway … but my car was gone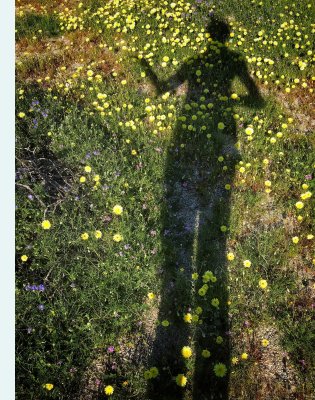 My eyes grew wide in horrified disbelief.  I looked hard at the spot where my car used to be as if doing so would make it suddenly reappear. I looked longer than a psychologist might warrant normal. My state of shock constructed implausible stories:
In the 30 seconds I was gone, someone stole my car.
Maybe I parked it at the bottom of the driveway and forgot?
Surely, it'll be back.
(Please let it come back!)
 
After several seconds it was evident my car would not come back.
 
I had to force myself to look down the steep, concrete driveway as a sickening dread pressed heavy on my chest. I didn't hear any screaming, a good sign. I didn't hear a crash, that's weird. Scanning the area, I saw it.  To the right of the driveway my car was on perched halfway up a boulder, ornaments sprinkled on the ground in mock festivity; it was a David Lynch-like surrealism.  
Inexplicably, there was no damage to the car (or the ornaments), but more importantly no one had been in the path of my runaway car. Kids lived on that block and an older couple lived right across the street! It could have been horrific. That I was relieved is an understatement.
The artist part of my brain briefly admired the composition of Red Car Climbing Gray Boulder with Pink and Green Ornaments, but that moment was quickly replaced by Embarrassment, Gloom, and Shame. I called my boyfriend; he called a tow truck company which called the fire department, (for friction reasons).  They arrived, chuckled in disbelief, carefully towed the car back to the driveway, and waved good-bye.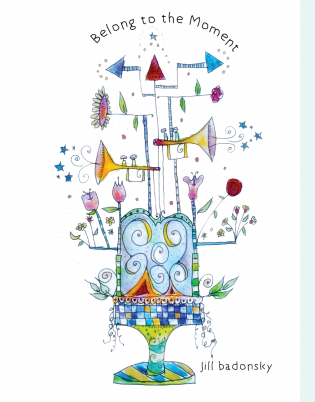 This was my wake-up call to be more present. I would BE more mindful from now on so nothing like that would ever happen again.  "I am grateful for this momentous turning point in my life," I announced to the Christmas tree as I hung the ornament survivors of Runaway Car 2005.    I released a sigh of belief in this new chapter of paying more attention and preventing more potentially life-threatening incidents.
 
Two months later, I came out of the house, and  ... my CAR WAS GONE AGAIN.  Once more it had rolled into the front yard, but this time it didn't land on the boulder. It crashed into the boulder. It was totaled.
I was totaled too. I can't describe the self-disgust I felt from this failure to secure the emergency-brake a second time, except to say it was vast. I wished some nice person would hug me and make it okay. My boyfriend treated me like I was an imbecile. I should have had myself towed somewhere else at that point too, (for friction reasons), but I went inside, hid under the covers and cried.
When I emerged, I started writing and illustrating my second book,
The Awe-manac: A Daily Dose of Wonder, a book created with the zeal
and intensity of someone needing an escape not only from extreme
consequences of absent-mindedness, an abusive relationship, and deep self-loathing, but from the emotional wreckage that included being estranged
fr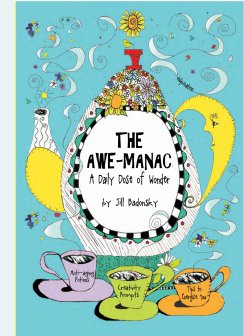 om family.  As I wrote it, I experienced the power of creativity to provide sanctuary, resilience, and self-empowerment, a power that just kept growing. There was a transcendence in that creative process that I've only found before in nature. I could pay quality attention when concentration had alluded me before because my creative heart was resuscitated. I was aligned with my gifts. 
The man I was living with was wrong for me, I stayed with him far past what was wise, so I just figured my runaway car was telling me, "If you don't leave, I will." I did leave shortly after and fashioned a new understanding of how creative mindfulness works for me and the hundreds of people who have since taken my classes, trainings, and retreats.  It's a system that uses unconventional approaches to both life and creativity, allows for being imperfect, effortlessly unearths buried genius, uses fun as a motivator, and exalts the creative process a place in life where you can feel blissfully alive. All this made more profound with the freedom that mindfulness promotes.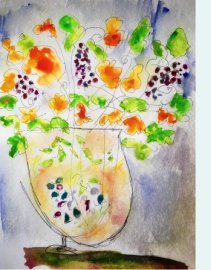 Artfully Delivering Hasty Designs (ADHD)
I am still mindfully challenged in many ways:    I read paragraphs in books over and over because my mind strays to the annoying leaf blower outside, the persistent call of cherry pie, or the reverberation of interpersonal blunders.  I routinely get the strap of my purse caught on doorknobs and am yanked back as if a mother is grabbing my arm saying, "Not so fast little, missy, you left your flat iron plugged in."  
Turns out, however,  I'm not an imbecile. I keep finding evidence that I am intelligent and creative … with occasional flurries of distraction, high sensitivity, resistance, dubious online addictions, toxic comparison, inconvenient mood swings, difficulty with time management, a prevailing sense that I should be doing anything other than whatever it is I'm doing,  frequent bouts of misplacing, dropping, and getting sticky stuff on my cell phone, and tendencies to try and include too much information into one sentence.
Most of those conditions are not that uncommon. Maybe some of them ring true for you. If so, you're my people and I assure you, you can make those endearing traits work for your creativity. High sensitivity, moodiness, and even ADHD have creative advantages. You can find bliss amid the obstacles that come with being alive in general.
I am no longer dangerous, at least not with a car on a hill in the high desert, because now I have an automatic transmission and live on a level street close to a cafe. 
Wabi- Sabi… as Tom Robbins describes it is " the aesthetic of finding beauty in the imperfect and unexpected; the secret, private joy of being attuned to the Zen of things." Wabi-Sabi is Wild Abandon 
Experience Wild Abandon:
For the intimidated beginner and the seasoned expert wanting a fresh approach and a lot of fun
July 10-15, 2022
Wild Abandon Creativity
 at the beautiful 
Omega Institute
  in Rhinebeck, NY
Writing, art, and smartphone photography.
Wild Abandon will be back online soon and at the Athenaeum in the fall.