I once lived far too long on a steep, boulder-strewn hill in the high desert outside of San Diego with an incompatible boyfriend… yet, just the right amount of time for what came next. 
One December day, after returning home from buying groceries and Martha Stewart Christmas ornaments that sported a delightful motif of pink and green, I opened the trunk of my car and hurried the groceries into the house. When I came out, eager to retrieve and hang the girly ornaments, my car was gone.

This is what my eyes looked like:
Actual size
I froze. I stared hard at the spot where my car used to be as if doing so would suddenly make it reappear. I stared longer than a psychologist might warrant normal. My state of shock constructed implausible stories like:
In the 30 seconds I was gone, someone stole my car.
Maybe I parked it at the bottom of the driveway and forgot.
It will be BACK in a minute. It WILL be back in a minute. It will be ...
My car did not come back.
 
I had to force myself to look down the steep, concrete driveway because a sickening dread pressed heavy on my chest. I didn't hear any screaming, a good sign. I didn't hear a crash, that's weird.
Then I saw it. Just to the right of the driveway, my car was on perched halfway up a boulder.
Dramatization, not actual size.
Inexplicably, there was no damage to the car or the ornaments, but more importantly no one had been in the path of my runaway car. Kids lived on that block and an older couple lived right across the street. It could have been horrific. That I was relieved is an understatement.
The artist part of my brain briefly admired the composition of Red Car Climbing Beige Boulder with Pink and Green Ornaments. That moment was quickly replaced by Embarrassment, Gloom, and Shame. I called my boyfriend, he called a tow truck company, the tow truck company called the fire department, (for friction reasons).  The fire department and the tow truck company arrived, all chuckled in disbelief, had the car carefully towed back to the driveway, and waved good-bye.   Bye.
This was my wake-up call to be more present! I would be more mindful from now on so nothing like that would ever happen again.  "I am grateful for this momentous turning point in my life," I announced to the Christmas tree as I hung the survivors of Runaway Car 2005.    I released a sigh of belief in this new chapter of paying more attention and preventing more potentially life-threatening incidents. I wish that's what happened, but it's not.  Two months later, I came out of the house, and my car was gone again.
 For a second time, I forgot to secure the emergency-brake and again thankfully it rolled into the front yard. This time it didn't land on the boulder, it crashed into the boulder. It was totaled.


Totaled  
I was totaled too. I was drowning in self-loathing, it was titanic. I wished some nice person would throw me a life-preserver and make it okay. My boyfriend, the incompatible one, treated me like I was an imbecile. I should have had myself towed somewhere else at that point too, (for friction reasons), but I went inside to hide under the covers … and cry.
While I was under there, I started writing and illustrating my second book, The Awe-manac: A Daily Dose of Wonder, a book created with the intensity of someone needing an escape not only from disturbing consequences of absent-mindedness, an emotionally abusive relationship, and deep self-loathing, but from the emotional wreckage that included cutting ties with the toxic family I grew up with. Another story I'll spare you. Not an easy endeavor but one necessary to my survival. 
As I wrote and illustrated The Awe-manac, I experienced the power of creativity, mindfulness, and humor to usher me to sanctuary, resilience, and confidence. I had a burst of visceral self-like. My illustrations were wobbly, reckless, and inconsistent, because so am I. I have trouble with patience and coordination, a few of my ADHD symptoms. But art allows for mistakes, in fact if you make enough of them, it becomes your style. It became mine.
I could pay quality attention to writing and art, even when concentration would allude me in other areas like remembering to use emergency brakes. Writing a book isn't as dangerous as not remembering to set the emergency brake on a hill, or is it? Finding a reason to believe in yourself can be a life saver, I assure you, it was for me.
A Portal to Mindfulness
It became apparent that creativity was a portal to mindfulness for me. Creativity requires paying attention. It's hard to write and make art when I'm distracted but the a creative task captures me in its meditative flow which has the fringe benefit of making sustained focus easier. The skills acquired from making art and writing eventually relocate to paying better attention in other areas.  As does resilience, resourcefulness, patience, and love for the world. This book will take you into that flow.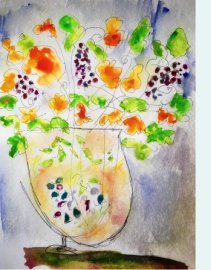 Mindfulness is more than paying attention – it's allowing for all the things that make us human to be there without having to fix them: the clumsiness, forgetfulness, moodiness. 
Not So Fast, Missy
When we allow ourselves to be just as we are, we are better able to gravitate toward our best selves.  We no longer need to put on the brakes to stop our flaws from running away with our pride. Accepting imperfections comes from the same department of humanhood that acknowledges our strengths.  This book will teach you how to allow things to be as they are . Creativity uses the gristle of life to make art and writing that people can relate to, heal from, and celebrate. The friction of our contradictions is our creative fire. 
I'm not okay with my car rolling down the hill, but I'm better able to contribute the world by understanding it happened because I'm human rather than diminishing myself with shame, embarrassment, and self-loathing. No matter what you define as your faults, you also have a sphere of brilliance. We all do. This book will help you see that again, or for the first time.
I am still mindfully challenged in many ways. I reread paragraphs over and over because my mind strays to the possibility of cherry pie, leaf blowers, or how cute my cat looks when he sleeps on his back on my yoga mat. I routinely get the strap of my purse caught on doorknobs and am yanked back as if a mother is grabbing my arm saying, "Not so fast little, missy, you left your flat iron plugged in."     
I am Not an Imbecile
Turns out, however, I'm not an imbecile. I keep finding evidence that I am intelligent and creative with occasional flurries of distraction, high sensitivity, resistance, self-loathing, dubious online addictions, toxic comparison, difficulty with time management, a prevailing sense that I should be doing anything other than whatever it is I'm doing, frequent bouts of misplacing, dropping, and getting sticky stuff on my cell phone, and tendencies to try and include too much information into one sentence.
Most of those conditions are not that uncommon. Maybe some of them ring true for you. If so, you're my people and I assure you, you can make those endearing traits work for your creativity. High sensitivity, moodiness, and even ADHD have creative advantages. 
According to credible evidence from the world of psychology, a wandering mind is also a creative one. Sometimes we bounce from thought to thought. Mindfulness helps us leverage this quality and tame that bouncing enough to make associations that become brilliant ideas.
We can find contentment, freedom, and vibrant self-expression amid a built-in set of obstacle courses.
I am no longer dangerous, at least not with a car on a hill in the high desert, because now I have an automatic transmission and live on a level street close to a cafe.