"Unlike a fountain that circulates the same water in an enclosed, perpetually
recycling system, a human being circulates thoughts in an unlimited
reservoir of self. Don't limit yourself to being a mere fountain when you contain an ocean."
~Vera Nazarian
Don't fall in the fountain. 
Originally developed by Abraham Maslow in 1964, "peak experiences" are described as
"rare, exciting, oceanic, <(really?!), deeply moving, exhilarating, elevating experiences that generate an advanced form of perceiving reality, and are even mystic and magical in their effect upon the experimenter."
I've been swimming a mile at La Jolla cove at sunrise a couple times a week for the past couple of years. I'm accompanied by sea lions, Garibaldi fish, pelicans, occasionally my friend Reba, and sometimes, off in the distance, I can see dolphins and whales romping . One day, Jonathan Livingston seagull floated by and said "Baaach!" I think he meant Richard Bach.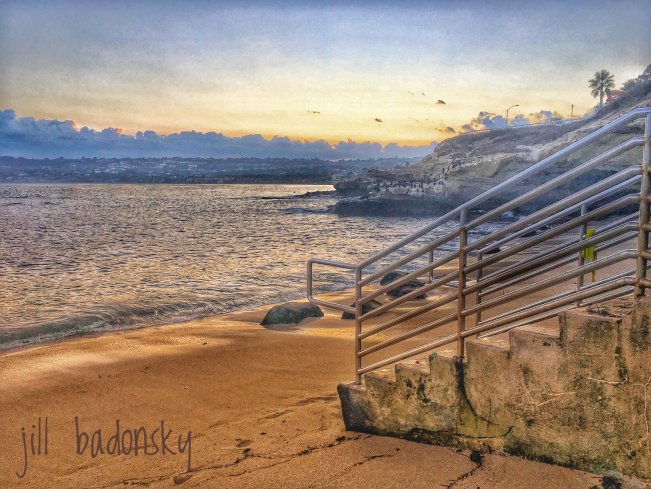 The activity feels like a peak experience; Maslow is nodding. In fact I actually say to myself, THIS is a peak experience as I watch the sun emerge from the clouds, feel the waves' perpetual cycling and relish the water suspending me. I'm not sure if announcing that to myself counts but despite the current way of the world and the daily dribble of my life, when I'm swimming at dawn, there's nothing there but the ocean and a space for creative ideas to float by my consciousness. Bliss.
I'm present with this sea because my focus on the creative process has prepared me for it. Focusing on the creative process is practice with being present with every aspect of being alive, not just my art and writing. And in a world where focus is constantly hijacked by the myriad of shiny and chocolate covered things, that's a blessing.
Creativity requires a love affair with the present moment –it is the pinnacle of mindfulness because in the creative process we are lost IN the moment. And it is here where our spirit is alive with expression and we are experiencing a freedom like nothing else.
What if we were so present with THIS moment, the one we're in right NOW, that we would be able to write about it two months from now? You don't have to do that, but what if you played with the possibility? What feelings, sensations, visuals, realizations are in this moment for you? What do you notice about your mind when you do that? Is there more space? Let's go for oceanic.
What love affair is all about being present for you?
Quotes like the one with the mermaid at the top are inspiring … but how do you put it into
operation?  How indeed, do you begin to experience yourself as an ocean of consciousness versus a fountain circulating the same thoughts over and over?
Habits drive us, are familiar and comfortable, and when life isn't as comfortable as we'd like, they take over more than ever.
Finding the Ocean :
Remind myself that there may be more possibilities than what's currently circulating. I ask small questions: What tiny way can I look at my world differently? How can I  approach my creativity differently? Withe curious expectation? Childlike fascination? Mischievous irreverence? Chocolate coated? What new thinking can I expand into? Just asking is enough but if you do this, be ready to write things down should they bubble up from the depths of your uniqueness.


Expose myself to something inspiring and ask the small question: How does this inspire my own version of creativity?


Set the stage for expansion. When I'm feeling resistant toward starting, sometimes simply doing something mechanical to get me out of my habitual zombie avoidant strategies makes it easier for the creative work to happen. Opening a file, reading a passage, listening to a podcast, going for a walk or a drive, reading a quote. None of those bring up resistance, all of them set the stage for the next small expansive step.
I have to remember to routinely reset my thinking settings from "fountain" to "OCEAN."  Less pigeons that way.