Explaining exactly where an idea comes from seems to be beyond the scope of the intellect.
Perhaps it was for this reason Dr. Seuss hated the question, "How do you get your ideas?" Instead of getting annoyed or answering by analyzing something that's so elusive, Dr. Seuss invented a flippant reply:
 "I get all my ideas in Switzerland near the Forka Pass. There is a little town called Gletch, and two thousand feet up above Gletch there is a smaller hamlet called Über Gletch. I go there on the fourth of August every summer to get my cuckoo clock fixed. While the cuckoo is in the hospital, I wander around and talk to the people in the streets. They are very strange people, and I get my ideas from them."
 Such an elaborately silly answer makes sense when you have a thing for nonsense.
"I like nonsense, it wakes up the brain cells. Fantasy is a necessary ingredient in living, it's a way of looking at life through the wrong end of a telescope." ~Dr. Seuss
Another way to look at it is to think that ideas from a spiritual realm not available to the mind's analysis.
What if Über Bliss was a journey that gave you practice in looking at life differently?  A journey with  some nonsensical side-trips and ways to see through another end of a telescope, but Über Bliss would be primarily designed to wake up your spirituality, the most necessary ingredient for happiness, through creative action and thought. It's not a fantasy, but imagination is one of the tickets for entrance.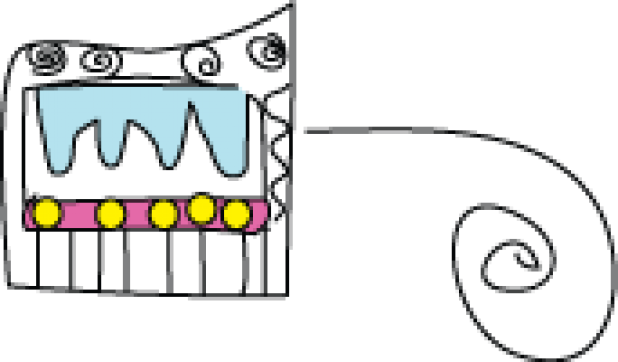 The association of spirituality with creativity is not a new one:
Many writers and artists describe their participation in the creative flow as being a "vessel" for something greater than themselves.
One of the most spiritually powerful acts a person can undertake is to create,  at whatever level they are able, and feel it is a gift to do so.
Creativity and spirituality are often see as synonymous. We are inspired (moved by the divine or to a higher place) by creative expression, whether it is from ourselves or others.
When an individual perseveres with the creative process, she not only produces something unique but more importantly she earns spiritual rewards: resilience, patience, compassion, resourcefulness, courage, surrender, and non-meaterial contentment.

Über Bliss is a place:
Where creative approaches are a conduit to grace, kindness, compassion,resilience, patience, and peace of mind -higher ways to experience life.
To release the hollow illusions of happiness and find authentic, lasting contentment.
To repair your cuckoo blocks - procrastination, resistance, perfectionism, distraction. 
Where you get to be an artist of being alive.
It's a place inside of you - the journey to get there is a tiny creative warble at a time.
Instead of a "Gletch," this journey is about Bliss. You can start your journey to Uber Bliss by beginning to work-out your perspective muscles. Seeing things differently is a skill for both creativity and happiness.
I will be starting a teleconference and on-line program in July called Finding Über Bliss. We will use creative prompts to develop our ability to see life differently. An example of a prompt:  Take three lemons and rearrange them at least five different ways and photograph them. Email me at info@themuseisin.com if you would like more information about this program.
All rights reserved Jill Badonsky (c) 2014, may be shared with permission.